Mr Brian Caffrey (PhD Student)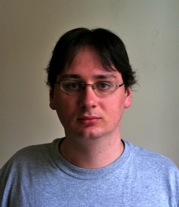 Contact Details:
Email: brian.caffrey@tcd.ie
Phone:
+353 (0) 1
8962719
Identifying interacting mutations in eukaryotic and prokaryotic genomes
The genomes of species are constantly evolving. They adapt to their current conditions by accepting beneficial mutations. Identification of differing mutations between species can offer much insight into the functional role of genes and proteins. Protein-protein interactions are involved in all functions in the human body. It stands to reason that if one protein mutates then there may be a need for the proteins it interacts with to change thus maintaining the protein function.
Understanding these Coevolution effects, or epistasis, is of paramount importance to the understanding of the emergence of biological complexity, including the origin and maintenance of sex, evolution of ploidy, reproductive isolation and accumulation of deleterious mutations in small populations. Even though epistasis plays a significant role in these areas, the exact mechanisms remain unknown because the direction and complexity of mutations' interactions are not constant but correlate with genome complexity.
There are two main relationships that are being explored: pathogenic bacteria and their eukaryotic hosts, and endosymbiotic bacteria and insect hosts. The Focus of the project will be on fully sequenced genomes using both existing computational tools and novel computational methods to identifying interaction between mutations. We aim to describe the mutational dynamics at the genome level by developing computational methods that a priori predict the importance of mutations for protein function and their interaction networks within and between proteins. The specific objectives of this project are: i) developing computational tools to identify interaction between mutations within and between proteins; ii) test the difference in the mutational dynamics between eukaryotic and prokaryotic genomes and its importance for their biological role and complexity; and iii) determine how mutations in proteins are affected by the interaction between biological systems.
Other Interests:
Neural Networks, Protein Folding, Methods of identification of Transcription factor binding sites, monte carlo Simulations.