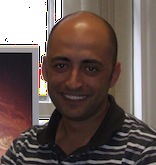 Dr Mario Fares (Principal Investigator)

Contact Details:
Email: faresm@tcd.ie
Phone: +353 (0) 1 8963521

Introduction

My research interests are twofold, biomedical as well as theoretical. Most of the research effort in my laboratory is devoted to the understanding of the selective forces shaping the evolution of proteins, proteomes and genomes. I have therefore sub-divided my research interests into five main research lines. These research lines go from the theoretical study of phylogenetics to the understanding of the relationships between amino acid sites at the three-dimensional level and the application of this knowledge to biomedically important proteins. Most of the concepts dealt with in my laboratory are related to the field of molecular evolution and the complexity of mutations relationships. Taking these interests and concepts to the level of comparative genomics and proteomics adds the dimension of systems biology to my research. The main fields I'm working in hence are:

Phylogenetics and Artifactual trees:

Development of new computational tools to identify artifactual phylogenies and correlation of these artifacts with evolutionary forces

Virus Evolution:

comparative genomics and molecular evolution of RNA viruses and the link between the molecular and epidemiological levels.

Comparative Genomics of intra-cellular Bacteria:

This research line includes several sub-fields and the aim is the understanding of the main genomic rearrangements selectively fixed in intra-cellular bacteria that have been responsible for the success of intra-cellular life. The two main lifestyles studied are endosymbiosis and pathogenesis

Biomedical and evolutionary analysis of Heat-shock proteins:

This is a multidisciplinary project which main objectives are the understanding of the selective constraints acting on heat-shock proteins, the main domains responsible for their folding activity and how could we possibly optimise the folding activity of these proteins. Determining the important role of heat shock proteins in shaping the mutational landscape of the cell proteome is among the main aims of this research line. To achieve these objectives we use several Bioinformatic and mathematical methods and test specific hypotheses using the Baker's yeast Saccharomyces cerevisiae as a biological system model.

Molecular coevolution:

This is a new research focus in the laboratory aimed at developing new mathematical parametric and non-parametric methods to detect co-evolution at the amino acid level within and between proteins. We are also studying and developing methods to apply coevolutionary analysis as a proxy for the in silico identification of protein-protein interactions. Using these methods we will attempt answering basic questions such as what molecular parameters underlie the success in the interaction between proteins, how mutation-fitness linked landscapes change throughout evolution and how do these landscape changes allow the emergence of biological complexity.
Publications
Williams TA, Codoñer FM, Toft C, Fares MA. Two chaperonin systems in bacterial genomes with distinct ecological roles. Trends Genet. 2010 Feb;26(2):47-51. Epub 2009 Dec 28
Garceau V, Smith J, Paton IR, Davey M, Fares MA, Sester DP, Burt DW, Hume DA. Pivotal Advance: Avian colony-stimulating factor 1 (CSF-1), interleukin-34 (IL-34), and CSF-1 receptor genes and gene products. J Leukoc Biol. 2010 Jan 5. [Epub ahead of print]
Jiang X, Fares MA. IDENTIFYING COEVOLUTIONARY PATTERNS IN HUMAN LEUKOCYTE ANTIGEN (HLA) MOLECULES. Evolution. 2009 Nov 20. [Epub ahead of print]
Reardon W, Fitzpatrick DA, Fares MA, Nugent JM. Evolution of flower shape in Plantago lanceolata. Plant Mol Biol. 2009 Oct;71(3):241-50. Epub 2009 Jul 11.
Commins, J., Toft, C. and Fares, M.A., Computational Biology Methods and Their Application to the Comparative Genomics of Endocellular Symbiotic Bacteria of Insects Biological Procedures. Biol Proced Online. 2009 Mar 11. [Epub ahead of print]
Toft C, Williams TA, Fares MA. Genome-wide functional divergence after the symbiosis of proteobacteria with insects unraveled through a novel computational approach. PLoS Comput Biol. 2009 Apr;5(4):e1000344. Epub 2009 Apr 3
Tully DC, Fares MA. Shifts in the selection-drift balance drive the evolution and epidemiology of foot-and-mouth disease virus. J Virol. 2009 Jan;83(2):781-90. Epub 2008 Nov 12.
Toft C, Fares MA. Selection for Translational Robustness in Buchnera aphidicola, Endosymbiotic Bacteria of Aphids. Mol Biol Evol. 2009 Jan 6. [Epub ahead of print]
Williams TA, Wolfe KH, Fares MA. No rosetta stone for a sense-antisense origin of aminoacyl tRNA synthetase classes. Mol Biol Evol. 2009 Feb;26(2):445-50. Epub 2008 Nov 26.
Codoñer FM, O'Dea S, Fares MA. Reducing the false positive rate in the non-parametric analysis of molecular coevolution. BMC Evol Biol. 2008 Apr 10;8:106.
Toft C, Fares MA. The evolution of the flagellar assembly pathway in endosymbiotic bacterial genomes. Mol Biol Evol. 2008 Sep;25(9):2069-76. Epub 2008 Jul 17.
Llorens C, Fares MA, Moya A. Relationships of gag-pol diversity between Ty3/Gypsy and Retroviridae LTR retroelements and the three kings hypothesis. BMC Evol Biol. 2008 Oct 8;8:276.
Tully DC, Fares MA. The tale of a modern animal plague: tracing the evolutionary history and determining the time-scale for foot and mouth disease virus. Virology. 2008 Dec 20;382(2):250-6. Epub 2008 Oct 21.
Codoñer, F.M. and M.A. Fares. Why should we care about molecular Coevolution? Evolutionary Bioinformatics, 2007. In Press
Travers SA, Tully DC, McCormack GP, Fares MA. A study of the coevolutionary patterns operating within the env gene of the HIV-1 group M subtypes. Mol Biol Evol. 2007 Dec;24(12):2787-801. Epub 2007 Oct 5.
Radhakrishnan Y, Fares MA. Comparative genomic analysis of a mammalian beta-defensin gene cluster. Physiol Genomics. 2007 Aug 20;30(3):213-22. Epub 2007 Apr 24.
McNally, D. and M.A. Fares. In silico identification of functional divergence between the multiple groEL gene paralogs in Chlamydiae. BMC Evol Biol, 2007. 7: p. 81.
Ruano-Rubio, V. and M.A. Fares. Testing the neutral fixation of hetero-oligomerism in the archaeal chaperonin CCT. Mol Biol Evol, 2007. 24(6): p. 1384-96.
Ruano-Rubio, V. and M.A. Fares. Artifactual phylogenies caused by correlated distribution of substitution rates among sites and lineages: the good, the bad, and the ugly. Syst Biol, 2007. 56(1): p. 68-82.
Travers, S.A. and M.A. Fares. Functional coevolutionary networks of the Hsp70-Hop-Hsp90 system revealed through computational analyses. Mol Biol Evol, 2007. 24(4): p. 1032-44.
Codoñer, F.M., M.A. Fares, and E.F. Santiago. Adaptive Covariation between the Coat and Movement Proteins of Prunus Necrotic Ringspot Virus. Journal of Virology, 2006. 80(12): p. 5833-5840.
Fares, M.A. Computational and Statistical methods to Explore the Various Dimensions of Protein Evolution. Current Bioinformatics, 2006. 1: p. 207-217.
Fares, M.A., K.P. Byrne, and K.H. Wolfe. Rate asymmetry after genome duplication causes substantial long-branch attraction artifacts in the phylogeny of Saccharomyces species. Mol Biol Evol, 2006. 23(2): p. 245-53.
Fares, M.A. and D. McNally. CAPS: coevolution analysis using protein sequences. Bioinformatics, 2006. 22(22): p. 2821-2.
Fares, M.A. and S.A. Travers. A novel method for detecting intramolecular coevolution: adding a further dimension to selective constraints analyses. Genetics, 2006. 173(1): p. 9-23.
Toft, C. and M.A. Fares. GRAST: a new way of genome reduction analysis using comparative genomics. Bioinformatics, 2006. 22(13): p. 1551-61.
Tully, D.C. and M.A. Fares. Unravelling Selection Shifts Among Foot-and-Mouth Disease Virus (FMDV) Serotypes. Evolutionary Bioinformatics Online, 2006. 1: p. 223-237.
Fares, M.A., A. Moya, and E. Barrio. Adaptive evolution in GroEL from distantly related endosymbiotic bacteria of insects. J Evol Biol, 2005. 18(3): p. 651-60.
Fares, M.A. SWAPSC: sliding window analysis procedure to detect selective constraints. Bioinformatics, 2004. 20(16): p. 2867-8.
Fares, M.A., A. Moya, and E. Barrio. GroEL and the maintenance of bacterial endosymbiosis. Trends Genet, 2004. 20(9): p. 413-6.
Lynn, D.J., R. Higgs, S. Gaines, J. Tierney, T. James, A.T. Lloyd, M.A. Fares, G. Mulcahy, and C. O'Farrelly. Bioinformatic discovery and initial characterisation of nine novel antimicrobial peptide genes in the chicken. Immunogenetics, 2004. 56(3): p. 170-7.
Lynn, D.J., A.T. Lloyd, M.A. Fares, and C. O'Farrelly. Evidence of positively selected sites in mammalian alpha-defensins. Mol Biol Evol, 2004. 21(5): p. 819-27.
Fares, M.A., D. Bezemer, A. Moya, and I. Marin. Selection on coding regions determined Hox7 genes evolution. Mol Biol Evol, 2003. 20(12): p. 2104-12.
Fares, M.A. and K.H. Wolfe. Positive selection and subfunctionalization of duplicated CCT chaperonin subunits. Mol Biol Evol, 2003. 20(10): p. 1588-97.
Wong, S., M.A. Fares, W. Zimmermann, G. Butler, and K.H. Wolfe. Evidence from comparative genomics for a complete sexual cycle in the 'asexual' pathogenic yeast Candida glabrata. Genome Biol, 2003. 4(2): p. R10.
Fares, M.A., E. Barrio, B. Sabater-Munoz, and A. Moya. The evolution of the heat-shock protein GroEL from Buchnera, the primary endosymbiont of aphids, is governed by positive selection. Mol Biol Evol, 2002. 19(7): p. 1162-70.
Fares, M.A., S.F. Elena, J. Ortiz, A. Moya, and E. Barrio. A sliding window-based method to detect selective constraints in protein-coding genes and its application to RNA viruses. J Mol Evol, 2002. 55(5): p. 509-21.
Fares, M.A. and E.C. Holmes. A revised evolutionary history of hepatitis B virus (HBV). J Mol Evol, 2002. 54(6): p. 807-14.
Fares, M.A., M.X. Ruiz-Gonzalez, A. Moya, S.F. Elena, and E. Barrio. Endosymbiotic bacteria: groEL buffers against deleterious mutations. Nature, 2002. 417(6887): p. 398.
Fares, M.A., A. Moya, C. Escarmis, E. Baranowski, E. Domingo, and E. Barrio. Evidence for positive selection in the capsid protein-coding region of the foot-and-mouth disease virus (FMDV) subjected to experimental passage regimens. Mol Biol Evol, 2001. 18(1): p. 10-21.
Marin, I., M.A. Fares, F. Gonzalez-Candelas, E. Barrio, and A. Moya. Detecting changes in the functional constraints of paralogous genes. J Mol Evol, 2001. 52(1): p. 17-28.
Fares, M.A., E. Barrio, N. Becerra, C. Escarmis, E. Domingo, and A. Moya. The foot-and-mouth disease RNA virus as a model in experimental phylogenetics. Int Microbiol, 1998. 1(4): p. 311-8.